IRS Puts New Regulations and ACA Coverage Requirement On Hold
Cohn, Michael. "IRS puts new regulations and ACA coverage requirement on hold." Accounting Today. Source Media. 16 February 2017. <http://www.accountingtoday.com/news/irs-puts-new-regulations-and-aca-coverage-requirement-on-hold>
The Internal Revenue Service is temporarily putting the brakes on issuing new rules while evaluating the impact of executive orders from President Trump, and scaling back enforcement of the individual mandate under the Affordable Care Act.
IRS associate chief counsel Robert Wellen told attendees at a Practising Law Institute conference this week that the agency would not be issuing any new revenue rulings or revenue procedures, at least until incoming Treasury Secretary Steven Mnuchin sets up his tax team, according to Tax Notes. Trump's executive order required two regulations to be identified for elimination whenever any new regulation is proposed. Federal agencies are still assessing how to deal with the new requirement.
Wellen said the IRS would continue to issue routine updates such as for interest rates and mileage deduction allowances, but for the foreseeable future the IRS won't submit any new regulations to the Federal Register or the Internal Revenue Bulletin. "Discussions continue," he said, according to Tax Notes. "Read your newspaper. I don't know how this is going to come out."
The IRS plans to still issue private letter rulings and chief counsel advice memorandums, however.
The IRS press office did not provide any immediate comment. The press office, however, did provide a link to information posted Wednesday on the IRS website explaining how it will deal with the processing of tax returns as the new administration plans to repeal the Affordable Care Act. The IRS said it is currently reviewing another Trump executive order, signed on the day of his inauguration, requiring federal agencies to exercise their discretion and authority to reduce potential economic burden. The IRS is trying to determine the implications for the individual shared responsibility provision, also known as the individual mandate. It recommended taxpayers should continue to file their tax returns as they normally would. The individual shared responsibility provision requires most taxpayers and their families to have some form of health coverage or qualify for a special health coverage exemption. Tax forms include a check box where taxpayers indicate whether they have "full-year coverage."
For this tax season, the IRS had originally made changes in its processing systems so it would automatically reject any tax returns if the taxpayer didn't provide information on health coverage. However, as a result of Trump's executive order directing federal agencies to exercise their authority and discretion to reduce potential burdens, the IRS has once again changed the programming on its systems so it will process tax returns, even if they don't indicate the taxpayer has health coverage.
"Consistent with that, the IRS has decided to make changes that would continue to allow electronic and paper returns to be accepted for processing in instances where a taxpayer doesn't indicate their coverage status," said the IRS.
The IRS cautioned, however, that the legislative provisions of the ACA remain in force until they are changed by Congress, and taxpayers are still required to follow the law and pay whatever they owe. The IRS will continue to process the returns as it did in previous tax seasons.
"Processing silent returns means that taxpayer returns are not systemically rejected by the IRS at the time of filing, allowing the returns to be processed and minimizing burden on taxpayers, including those expecting a refund," said the IRS. "When the IRS has questions about a tax return, taxpayers may receive follow-up questions and correspondence at a future date, after the filing process is completed. This is similar to how we handled this in previous years, and this reflects the normal IRS post-filing compliance procedures that we follow."
Have a question? Want to schedule a tax appointment? Call us at 804-204-1040 or email us.
---
IRS Summarizes "Dirty Dozen" List of Tax Scams for 2017
WASHINGTON — The Internal Revenue Service today announced the conclusion of its annual "Dirty Dozen" list of tax scams. The annual list highlights various schemes that taxpayers may encounter throughout the year, many of which peak during tax-filing season. Taxpayers need to guard against ploys to steal their personal information, scam them out of money or talk them into engaging in questionable behavior with their taxes.
"We continue to work hard to protect taxpayers from identity theft and other scams," said IRS Commissioner John Koskinen. "Taxpayers can and should stay alert to new schemes which seem to constantly evolve. We urge them to do all they can to avoid these pitfalls – whether old or new."
This is the third year the IRS has highlighted its Dirty Dozen list in separate releases over 12 business days. Taxpayers are encouraged to review the list in a special section on IRS.gov and be on the lookout for these con games.
Perpetrators of illegal schemes can face significant fines and possible criminal prosecution. IRS Criminal Investigation works closely with the Department of Justice to shut down scams and prosecute the criminals behind them. Taxpayers should keep in mind that they are legally responsible for what is on their tax return even if it is prepared by someone else. Be sure the preparer is up to the task. For more see the Choosing a Tax Professional page.
Here is a recap of this year's "Dirty Dozen" scams:
Phishing: Taxpayers need to be on guard against fake emails or websites looking to steal personal information. The IRS will never initiate contact with taxpayers via email about a bill or refund. Don't click on one claiming to be from the IRS. Be wary of emails and websites that may be nothing more than scams to steal personal information. (IR-2017-15)
Phone Scams: Phone calls from criminals impersonating IRS agents remain an ongoing threat to taxpayers. The IRS has seen a surge of these phone scams in recent years as con artists threaten taxpayers with police arrest, deportation and license revocation, among other things. (IR-2017-19)
Identity Theft: Taxpayers need to watch out for identity theft especially around tax time. The IRS continues to aggressively pursue the criminals that file fraudulent returns using someone else's Social Security number. Though the agency is making progress on this front, taxpayers still need to be extremely cautious and do everything they can to avoid being victimized. (IR-2017-22)
Return Preparer Fraud: Be on the lookout for unscrupulous return preparers. The vast majority of tax professionals provide honest high-quality service. There are some dishonest preparers who set up shop each filing season to perpetrate refund fraud, identity theft and other scams that hurt taxpayers. (IR-2017-23)
Fake Charities: Be on guard against groups masquerading as charitable organizations to attract donations from unsuspecting contributors. Be wary of charities with names similar to familiar or nationally known organizations. Contributors should take a few extra minutes to ensure their hard-earned money goes to legitimate and currently eligible charities. IRS.gov has the tools taxpayers need to check out the status of charitable organizations. (IR-2017-25)
Inflated Refund Claims: Taxpayers should be on the lookout for anyone promising inflated refunds. Be wary of anyone who asks taxpayers to sign a blank return, promises a big refund before looking at their records or charges fees based on a percentage of the refund. Fraudsters use flyers, advertisements, phony storefronts and word of mouth via community groups where trust is high to find victims. (IR-2017-26)
Excessive Claims for Business Credits: Avoid improperly claiming the fuel tax credit, a tax benefit generally not available to most taxpayers. The credit is usually limited to off-highway business use, including use in farming. Taxpayers should also avoid misuse of the research credit. Improper claims often involve failures to participate in or substantiate qualified research activities and/or satisfy the requirements related to qualified research expenses. (IR-2017-27)
Falsely Padding Deductions on Returns: Taxpayers should avoid the temptation to falsely inflate deductions or expenses on their returns to pay less than what they owe or potentially receive larger refunds. Think twice before overstating deductions such as charitable contributions and business expenses or improperly claiming credits such as the Earned Income Tax Credit or Child Tax Credit. (IR-2017-28)
Falsifying Income to Claim Credits: Don't invent income to erroneously qualify for tax credits, such as the Earned Income Tax Credit. Taxpayers are sometimes talked into doing this by con artists. Taxpayers should file the most accurate return possible because they are legally responsible for what is on their return. This scam can lead to taxpayers facing large bills to pay back taxes, interest and penalties. In some cases, they may even face criminal prosecution. (IR-2017-29)
Abusive Tax Shelters: Don't use abusive tax structures to avoid paying taxes. The IRS is committed to stopping complex tax avoidance schemes and the people who create and sell them. The vast majority of taxpayers pay their fair share, and everyone should be on the lookout for people peddling tax shelters that sound too good to be true. When in doubt, taxpayers should seek an independent opinion regarding complex products they are offered. (IR-2017-31)
Frivolous Tax Arguments: Don't use frivolous tax arguments to avoid paying tax. Promoters of frivolous schemes encourage taxpayers to make unreasonable and outlandish claims even though they have been repeatedly thrown out of court. While taxpayers have the right to contest their tax liabilities in court, no one has the right to disobey the law or disregard their responsibility to pay taxes. The penalty for filing a frivolous tax return is $5,000. (IR-2017-33)
Offshore Tax Avoidance: The recent string of successful enforcement actions against offshore tax cheats and the financial organizations that help them shows that it's a bad bet to hide money and income offshore. Taxpayers are best served by coming in voluntarily and getting caught up on their tax-filing responsibilities. The IRS offers the Offshore Voluntary Disclosure Program  to enable people to catch up on their filing and tax obligations. (IR-2017-35)
Have a question? Want to schedule a tax appointment? Call us at 804-204-1040 or email us.

---
Check Out These Tax Benefits for Parents
Taxpayers with children may qualify for certain tax benefits. Parents should consider child-related tax benefits when filing their federal tax return:
EITC and ACTC Refunds. Because of new tax-law change, the IRS cannot issue refunds before Feb. 15 returns that claim the Earned Income Tax Credit (EITC) or the Additional Child Tax Credit (ACTC). This applies to the entire refund, even the portion not associated with these credits. The IRS will begin to release EITC/ACTC refunds starting Feb. 15. However, the IRS expects the earliest of these refunds to be available in bank accounts or debit cards during the week of Feb. 27, as long as there are no processing issues with the tax return and the taxpayer chose direct deposit. Read more about refund timing for early EITC/ACTC filers.
Adoption Credit. It is possible to claim a tax credit for certain costs paid to adopt a child. For details, see Form 8839, Qualified Adoption Expenses.
Education Tax Credits. An education credit can help with the cost of higher education. Two credits are available: the American Opportunity Tax Credit and the Lifetime Learning Credit. These credits may reduce the amount of tax owed. If the credit cuts a taxpayer's tax to less than zero, it could mean a refund. Taxpayers may qualify even if they owe no tax. Complete Form 8863, Education Credits, and file a return to claim these credits. Taxpayers can use the Interactive Tax Assistant tool on IRS.gov to see if they can claim them. Visit the IRS's Education Credits web page to learn more on this topic. Also, see Publication 970, Tax Benefits for Education.
Student Loan Interest. Taxpayers may be able to deduct interest paid on a qualified student loan. They can claim this benefit even if they do not itemize deductions. Use the Interactive Tax Assistant to determine if interest paid on a student or educational loan is deductible. For more information, see Publication 970.
Self-employed Health Insurance Deduction. Taxpayers who were self-employed and paid for health insurance may be able to deduct premiums paid during the year. See Publication 535, Business Expenses, for details.
Have a question? Want to schedule a tax appointment? Call us at 804-204-1040 or email us.

---
Are Social Security Benefits Taxable?
If taxpayers receive Social Security benefits, they may have to pay federal income tax on part of those benefits. These IRS tips will help taxpayers determine if they need to do so.
Form SSA-1099.  If taxpayers received Social Security benefits in 2016, they should receive a Form SSA-1099, Social Security Benefit Statement, showing the amount of their benefits.
Only Social Security.  If Social Security was a taxpayer's only income in 2016, their benefits may not be taxable. They also may not need to file a federal income tax return. If they get income from other sources, they may have to pay taxes on some of their benefits.
Free File.  Taxpayers may use IRS Free File to prepare and e-file their tax returns for free. If they earned $64,000 or less, they can use brand-name software. The software does the math for them, which helps avoid mistakes. If taxpayers earned more, they can use Free File Fillable Forms. This option uses electronic versions of IRS paper forms. It's best for people who are used to doing their own taxes. Free File is available only by going to IRS.gov/freefile.
Interactive Tax Tools.  Taxpayers can get answers to their tax questions with this helpful tool, Are My Social Security or Railroad Retirement Tier I Benefits Taxable, to see if any of their benefits are taxable. They can also visit IRS.gov and use the Interactive Tax Assistant tool.
Tax Formula.  Here's a quick way to find out if a taxpayer must pay taxes on their Social Security benefits: Add one-half of the Social Security income to all other income, including tax-exempt interest. Then compare that amount to the base amount for their filing status. If the total is more than the base amount, some of their benefits may be taxable.
Base Amounts. The three base amounts are:

$25,000 – if taxpayers  are single, head of household, qualifying widow or widower with a dependent child or married filing separately and lived apart from their spouse for all of 2016
$32,000 – if they are married filing jointly
$0 – if they are married filing separately and lived with their spouse at any time during the year
Have a question? Want to schedule a tax appointment? Call us at 804-204-1040 or email us.

---
Small Business Corner
---
The Virginia Council of CEOs: A look back at the evolution and history of vaceos
Staff. "a look back at the evolution and history of vaceos" VACEOs. Virginia Council of CEOs. 20 February 2017. <http://www.vaceos.org/news/2017/02/20/the-history-and-evolution-of-vaceos/>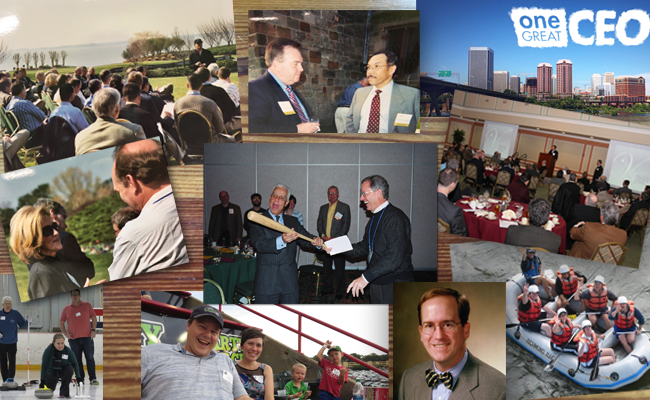 Like many budding startups, the Virginia Council of CEOs began with a vision and a dedicated core of individuals. Today, nearly 20 years after a state chapter morphed into the organization as it exists today, VACEOs is a successful, thriving association with an unwavering mission and strategy to serve more Virginia CEOs.
IN THE BEGINNING…
VACEOs didn't begin as a non-profit organization, but rather as a state chapter of the Council of Growing Companies, which was formed in 2000 by Chuck McCabe, CEO of Peoples Tax & Business Services. Under his leadership, the chapter did not dissolve when the national organization failed, but came into its own on January 1, 2002, when its first executive director, Scot McRoberts, filed for 501(c)(6) non-profit status.
"I was the spark plug that brought the CEO peer-to-peer concept of the Council of Growing Companies to Richmond, which later become the Virginia Council, but I would credit Scot McRoberts as a co-founder of VACEOs," explains McCabe. "And without Scot as the executive director, the Council would not have succeeded and would not be as successful as it is today."
In 2000, Scot McRoberts was senior vice president of the Richmond Chamber and a board member of the Council of Growing Companies. When asked why he left the Chamber to become VACEOs executive director, McRoberts says, "The Council of CEOs was compelling to me. It met an immediate need not found in the business community. The people there were energetic and exciting. I had been at the Richmond Chamber for eight years, and it was a good time to do something different."
In 2002, VACEOs membership totaled 34. McCabe and McRoberts recruited board members from the Richmond CEO community to help guide the organization's mission. Original board members included Bernard Robinson of Networking Technologies + Support, Inc.,
Gail Johnson, CEO Rainbow Station, Inc., was also among the original VACEOs membership and the lone female executive in 2002. At the time, her business was 12 years old, and she was poised to franchise. "It was all good timing to be involved in a peer support group," she recalls. "When Chuck asked me if I would be a part of the Council's board, I quickly understood I was THE woman being asked to be an active participant at the table. This is an opportunity. How can I possibly refuse?'"
 REMEMBER WHEN?
With the core peer-to-peer roundtable concept and Gestalt Language Protocol in place, VACEOs steadily evolved from a volunteer-driven organization with only a few opportunities to learn and network during the year into a growing and vibrant organization with an active governing body and a busy events calendar.
"When we first started out, we were very volunteer driven," says McRoberts. "My role as executive director was part time. We had a large board and relied heavily on volunteer leadership for recruiting, program development – really everything. Over the years, that's changed dramatically. It's became more staff driven, with volunteers more involved in strategic leadership of the Council."
"I would say a big part of our success can also be credited to our culture of succeeding executive chairs," says McCabe. "Each chairperson has made their own contributions, and collectively all have helped to make the Council what it is today."
The first-ever VACEOs CEO retreat did not take place until 2005. It was held at Kingsmill Resort in Williamsburg, and approximately 50 CEOs attended. Roger Schnorbus, from the University of Richmond's Robins School of Business, spoke … for free. That first year Doug Wilder, the newly elected mayor of Richmond, was awarded our first Home Run Bat in appreciation of his presentation. (Later that day, he took his bat to a press conference at City Hall as a prop!)
The VACEOs Annual Retreat has since become the highlight of the year for many, as New York Times best-selling authors, respected national keynote speakers, and well-known CEOs and business leaders now come to present their ideas and experiences to the membership.
VACEOS TODAY
So far, in 2017, VACEOs has accomplished three very important milestones:
1) Membership has grown to 200;
2) A record number of sponsors have come on board; and
3) The Council has announced an alliance with the Virginia Chamber of Commerce.
"The Council is beginning to grow into its name as the Virginia Council of CEOs," says McRoberts. "I'm really excited about the opportunity to serve CEOs across Virginia, beginning with Charlottesville this winter and by forming roundtables in other communities across the commonwealth. The future is bright."
Going forward, the Council's ultimate mission will remain the same: to connect CEOs for learning and growth, with the peer-to-peer roundtable experience remaining at the heart of the organization.
"The Virginia Council of CEOs remains as relevant an organization today as it was yesterday," says Bernard Robinson, president & CEO of Networking Technologies + Support, Inc., and original VACEOs board member. "One of the nicest things about the Council is that it's made up of a bunch of dynamic people from dynamic organizations – and they're there for you to learn from every day. It's not a place for people to grow stagnant. There are new ideas and concepts and something for you to pick up every time you meet."
LEADERSHIP
There's strength behind leadership. View VACEOs current Board and Past Chairs.
Have a question? Want to schedule your Free 1 hour consultation to learn how our tax preparation services can help your business? Call us at 804-204-1040 or email us.

---
Six Tax Tips for the Self-Employed
Self-employed taxpayers normally earn income by carrying on a trade or business. Here are six important tips from the IRS for the self-employed:
Self-Employed Taxpayers. Sole proprietors and independent contractors are two types of self-employment. Taxes can be complex for the self-employed. Check out the IRS Self Employed Individuals Tax Center.
Estimated Tax. Self-employed taxpayers generally need to make quarterly estimated tax payments. IRS Publication 505, Tax Withholding and Estimated Tax, has details on making those payments.
Schedule C or C-EZ. Self-employed taxpayers must file a Schedule C, Profit or Loss from Business, or Schedule C-EZ, Net Profit from Business, with their Form 1040. For expenses less than $5,000, use Schedule C-EZ. Each form's instructions provide the rules for which form to use.
SE Tax. For those making a profit, self-employment and income tax may need to be paid. Self-employment tax includes Social Security and Medicare taxes. Use Schedule SE, Self-Employment Tax, to figure the tax.
Allowable Deductions. Taxpayers can deduct expenses paid to run a business that are both ordinary and necessary. An ordinary expense is one that is common and accepted in the industry. A necessary expense is one that is helpful and proper for a trade or business.
When to Deduct. In most cases, taxpayers can deduct expenses in the year paid or incurred. Some costs must be 'capitalized,' however. This means deducting the cost over a number of years.
Have a question? Want to schedule your Free 1 hour consultation to learn how our tax preparation services can help your business? Call us at 804-204-1040 or email us.