Peoples Tax to Provide Free Tax Services and Supply Drive for Families Supported by Connor's Heroes
About Connor's Heroes Foundation
They are a 501(c)(3) non-profit organization made up of volunteers, parents of children with cancer, and other caring individuals and companies who want to conquer childhood cancer through direct assistance, awareness, and research.
By building relationships of trust with patients and their families, Connor's Heroes® helps each family identify needs and then responds quickly and appropriately by engaging community volunteers in personal support services.
They hope to help others be heroes in the lives of children with cancer and their families. Currently, they provide assistance to children and their families who are being treated for cancer in Richmond, Virginia at the Children's Hospital of Richmond at VCU, including the ASK Pediatric Hematology/Oncology Clinic and the VCU Massey Cancer Center Bone Marrow Transplant Unit. We also provide Heroes Backpacks to children treated for cancer at Carilion Clinic Children's Hospital in Roanoke.
We established the Connor's Heroes Pediatric Cancer Research Endowment Fund that is used exclusively to support pediatric cancer research led by Richmond's first Endowed Chair, Dr. Seth Corey. We also actively support the Jamie Hess Pediatric Bone Marrow Transplant Research Fund at VCU Massey Cancer Center.
About the Supply Drive
Please consider dropping off an item at your tax appointment to provide support for children who must endure cancer treatment. Peoples Tax will be collecting items and assembling bags & backpacks for our heroes and their parents. These items provide a huge source of comfort and encouragement and help make life at the hospital a little easier. We ALWAYS need gift cards, also!! Here is a list of items on the Connor's Heroes Wish List: (Click Here for the printable wish list)
Gift cards ($25 & $50 grocery (Kroger & Food Lion), Gas (Exxon, Shell & WaWa), WalMart, & $10 iTunes)
Hand Lotion (travel size; no hotel samples)
Hand Sanitizer (like Purell; travel size & small pump)
Toothpaste (travel size) & toothbrush
Soft Tissues (large boxes and travel size)
Blixtex/chapstick
Dry Shampoo
Notecards (blank) w/ envelopes
Journals (adult and teen w/ minimal decoration)
Suduko, Crossword puzzles, Brain teaser games/puzzles
Slipper socks (for all ages)
Bubbles
Lego kits or small model kit
Nail polish/lip gloss (for teens)
Jewelry making & craft kits (small enough to fit in backpacks)
Card games (playing cards & Uno & Phase 10)
Small dolls
Sketch books
Stuffed animals (w/ tags; small & medium sizes to fit in backpacks)
Crayons and markers
Books (toddler – teen)
Infant learning toys
Toddler toys (Cars/trucks, Dinosaurs, Princess/Dora, etc)
Hand-held Leapster game with cartridges
Portable DVD players
DVDs (child appropriate, G, PG, PG-13, no violence)
How is Peoples Tax Contributing?
Peoples Income Tax, Inc. founder and CEO, Chuck McCabe, announced that his firm will make free tax preparation services available to families supported by Connor's Heroes, a Richmond-based charity providing support to Richmond-area families that have children with cancer.
Mr. McCabe noted, "Many families supported by Connor's Heroes have incurred extraordinary medical expenses resulting in financial hardship and cannot afford professional tax preparation help.  Some of these parents that might usually prepare their own tax returns because they cannot afford to pay a tax professional are now faced with new tax complications and added stress due to the illness of their children.  Peoples Tax is committed to alleviating one source of frustration and expense by providing free individual income tax preparation services, including year-round tax planning, for these parents," he said.
"Peoples Tax Professionals," McCabe noted, "are qualified to prepare any individual tax return, no matter how complex. Many of our tax professionals also write tax course curriculum to train tax professionals and CPAs for our sister company, The Income Tax School, which greatly enhances their tax knowledge."
Over the years Peoples Tax has provided free tax preparation services for many taxpayers with financial need, including residents of The Flagler Home at St. Joseph's Villa, Richmond homeless shelters, The Virginia Home for Boys and Girls and participants in the Greater Richmond Employment Assistance Team (GREAT) welfare-to-work program.
Have a question? Want to schedule a tax appointment? Call us at 804-204-1040 or email us.
---
Why Your Tax Return Should be Filed Early
By Charles E. McCabe
IRS has announced that the first day they will accept 2016 individual Form 1040 income tax returns will be Monday, January 23, 2017.  That is the date you or your tax preparer will be able to e-file your return.  However, many taxpayers will have their W-2s and all other necessary documents and information available to prepare their returns sooner.  The following are reasons you should have your return prepared before January 20th or as soon as possible thereafter.
Get your tax refund faster.  Obviously if the IRS owes you money, you should get it as soon as possible.  If your return is prepared early, it will be among the first returns to be e-filed on January 23th and you will be among the first people to receive your refund.
Budget your tax liability if you owe IRS.  Even if you expect to owe the IRS, you have the option of filing early and waiting until the April 18th deadline to pay what you owe.  Knowing what you will owe will give you more time to budget for that expense.  You will also have the option of arranging an installment payment plan by April 18th.
Avoid the last minute rush.  If you file early, you won't have to wait for an appointment with your tax preparer.  Your tax preparer will also be able to spend more time with you when he/she is not swamped with clients.
Use your tax refund to fund an IRA.  You and/or your spouse can increase your tax refund by deducting a contribution made to a traditional Individual Retirement Account (IRA).  The IRA contribution does not have to be funded until your tax filing deadline (April 18th for most people).  Assuming your Federal and Virginia marginal tax rate is typical at 30.75% (25% Federal and 5.75% VA), every $1,000 you invest in an IRA would increase your refunds by $307.50.  Therefore, it would cost you only $692.50 for every $1,000 you save for retirement.  By filing early, you will be able to use your enhanced refunds to fund your IRA contribution on or before April 18th.
Having your tax return may help in getting financing.  Banks and other lenders, especially small business lenders, often require current tax returns to be submitted with loan applications.  If you have children applying for college financial aid, your tax return information may be required for the financial aid form.
Reduce the possibility of errors. Preparing your return early will enable you and your preparer adequate time to review the return before filing without feeling rushed.   A careful review will reduce the possibility of errors or omissions.  At Peoples Tax all returns are checked by a tax preparer other than the one who prepared the return, regardless of how knowledgeable the preparer may be.  Anyone can make a mistake and this policy greatly reduces the possibility of errors.
Minimize your risk of identity theft.  By filing early, you will provide less time for someone to file a false return to obtain a refund using your identity.
Have a question? Want to schedule a tax appointment? Call us at 804-204-1040 or email us.

---
5 Mistakes That Could Cost You An IRS Audit
Let's face it. No one wants to deal with the IRS. No one. Most taxpayers find the process frustrating,
scary, and time consuming.
So how do you avoid it? In some cases you can't – the IRS chooses a very small sample of people at random to be audited. In other cases, your tax return could have been red flagged based on a number of factors.
This means as taxpayer, if you don't want to be on the IRS radar, you've got to make sure you don't make any mistakes or leave information out that could flag your return. There are several different ways you could end up on the IRS radar but here are five of the biggest reasons.
Unreported Income
The IRS has ways of discovering income you think you slid past them. Whether it's from the sale of a home, a side job, cash tips, bank interest income, dividend income, etc. An audit can be triggered when reported income or deductions don't match up with your W2s, 1099s, or 1098s.
Here's the bottom line: if you earned money, you need to report it. All of it.
Deductions
Be careful with your deductions. There are a lot of rules surrounding what can and cannot be deducted. Unreimbursed employee expenses, charitable contributions, mileage… If you have an unusual amount of itemized deductions compared to your income level,  your return could be flagged by the IRS. If your deductions are legitimate, make sure you have documentation for each of them.
Another item that the IRS scrutinizes is the valuation of donated items. Don't overestimate what your items are worth, make sure you are deducting what the fair market value of the used items would be. For more info, you can check out the IRS publication on determining fair market value.
Foreign Bank Accounts
You can hide money in foreign bank accounts… but not from the IRS. According to the Bank Secrecy Act, you are required to report any foreign financial accounts you have a financial interest in or signature authority over. This includes brokerage accounts, mutual funds, and trusts.
Mixing Business and Personal Expenses
For freelancers, small business owners, and the self-employed, mixing personal and business expenses can be one of the biggest mistakes made. It's very important to keep your bank accounts separate and make sure that all business expenses are paid from your business account.
Who You Claim As A Dependent
One thing that immediately catches the IRS's attention is when two people claim the same dependent. Only the custodial parent is allowed the dependency deduction. The custodial parent must complete Form 8332 in order to allow the noncustodial parent to claim the deduction.
You should also make sure that the dependents you claim are legitimate in the IRS's eyes and that your dependent does not claim himself or herself on his or her individual tax return. While you can claim other family members that you support who are not your children, there are guidelines you must follow.
Your Rights As A Tax Preparer
If you do happen to be audited, you have rights as a taxpayer. These rights include:
A right to professional and courteous treatment by IRS employees.
A right to privacy and confidentiality about tax matters.
A right to know why the IRS is asking for information, how the IRS will use it and what will happen if the requested information is not provided.
A right to representation, by oneself or an authorized representative.
A right to appeal disagreements, both within the IRS and before the courts.
Believe it or not it is easy to make these mistakes when self-preparing. Choosing a professional tax preparer can help you avoid sending red flags to the IRS. In the event that you are audited, only an Enrolled Agent, CPA or Attorney can represent you in front of the IRS. At People's Tax, we offer a Triple Guarantee:
Year Round Assistance – in the event that you receive a letter from the IRS
Accuracy through double-checking – we have a second preparer double check every tax return we file to insure that it is accurate
Satisfaction – if you are unsatisfied with the service you received, and you choose not to file the tax return we prepared for you, we will refund your preparation fees.
Have a question? Want to schedule a tax appointment? Call us at 804-204-1040 or email us.

---
7 Tax Preparer Myths You Should Not Believe
There are a lot of myths out there about tax professionals. We're boring, it takes a long time to become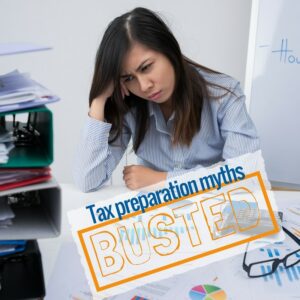 one, we love math… These are lies! We're recruiting students interested in learning tax preparation and joining our team for our online class in October. We realize there are a lot of myths out there about tax preparation so we've compiled this list to tell the truth about tax preparers, and what it takes to become one.
Myth #1: You need to be a CPA or have an accounting degree to be a Tax Professional.
Many people shy away from taxes because they think it will be too difficult and you must be a Certified Public Accountant (CPA) or have an accounting degree, or the equivalent. The truth is you really don't have to be an accountant to be a tax professional. Yes, you do need to have an aptitude for dealing with figures, but high level knowledge of math and finance are not necessary because tax preparation is not accounting, it's law. 
What you do need is at least one tax preparation course to give you a solid foundation in individual tax. In addition, a new voluntary IRS Annual Filing Season Program (AFSP) recommends that you also take a 6-hour Annual Federal Tax Refresher Course (AFTR) with a 100 question competency test to confirm your tax knowledge, along with some continuing education, which is always a good thing!
READ: How to Become a Tax Preparer
Myth #2: Tax Preparation is for 'numbers' people.
It's amazing how many people think that tax preparation is all about the numbers. It's not all about numbers, it's actually a people business, which is why we names our business Peoples Income Tax. While it is extremely important that you have the knowledge to prepare taxes accurately, the experience that your clients have during the tax preparation process and after is just as important. When you are dealing with a client's financial information it becomes very personal. Your client trusts you to take good care of him/her and hopes you have their best interests in mind. Your client is looking for guidance and has come to you because they see you as an expert in the tax industry. You could prepare a client's tax return perfectly but if you don't provide personal service, they may not be back. Relationships are paramount!
So, if you enjoy working with people, you could do very well in the tax business. It's all about building relationships and trust.
Myth #3:  You need to be a college graduate to become a tax professional
We already told you that you don't need to be a CPA to prepare taxes, but did you also know you don't need to have a college degree either? The level of education required is just a high school diploma or the equivalent life experience. While you don't need a college education, you will need education in tax law and preparation. Good news: it doesn't take four years to get that, it only takes several weeks.  
Myth #4:  Learning tax preparation could take years.  
Our Comprehensive Course can be completed in as little as 10 weeks. As we mentioned before, you can begin preparing taxes for the general public as soon as you learn the basics. From there you can increase your knowledge while working as a tax preparer. 
Myth #5:  Launching a new career as a tax professional is expensive.  
Our Comprehensive Tax Course costs less than $500 (without hard copies of the student text). It takes a lot more than that to go to school in order to pursue a career. Tax preparation is a very affordable career option. Plus, if you join our local class and become a tax preparer at Peoples Tax, the cost is lower. We are offering $199 for books and registration for students interested in employment with Peoples Tax upon completion of the course. (The regular price with a hard copy of the student text is $569.) Graduates who are hired and complete the entire upcoming tax season with Peoples Income Tax will receive a $100 rebate.
Myth #6: Tax preparation is boring
To an outsider, tax preparation may seem like a boring occupation but in reality, helping people deal with their taxes is very rewarding and gratifying. As a tax professional, you are a highly trusted confidante to your clients. They trust you with their most confidential financial and personal information. You are able to make the dreaded task of tax preparation a pleasant experience by educating them in the tax laws and simplifying the task.
If you like working with people and love solving problems, tax preparation is not boring at all.
Myth #7: Tax preparation is only seasonal
It's true, there is a "tax season" but that season is for individual taxes. If you learn to prepare business taxes, you prepare taxes for business owners on a quarterly basis. There are also "Offer in Compromise" services for people who may need to settle payments owed to the IRS, or auditing and IRS communication services for taxpayers who receive letters from the IRS and are not sure what to do. At Peoples Tax, many of our tax preparers also work for The Income Tax School (our sister company), writing curriculum and helping tax students during the off season.
Now that we've cleared the air, there should be nothing stopping you from starting a career as a tax professional but if there is, feel free to email us with questions. We'd love for you to join our roster of students for the upcoming Richmond class. The class is offered online and will give you a solid foundation in individual tax preparation, enabling you to complete all of the standard tax returns.
Benefits of taking the course include:
Gain a New, Professional, Marketable Skill
Work Flexible Hours: Days, Nights or Weekends
Increase Your Income; Save on Tax Preparation Fees
Cut Your Own Tax Bill – Tax Courses May Be Deductible
Certificate of Achievement Awarded Upon Completion
Find out more about our local online tax course
Have a question? Want to schedule a tax appointment? Call us at 804-204-1040 or email us.

---
Small Business Corner
---
Small Business Taxes: What to Expect in 2017
Uzialko, Adam C. "Small Business Taxes: What to Expect in 2017." Business News Daily. Purch. 3 January 2017. <http://www.businessnewsdaily.com/7720-small-business-taxes.html>
For many businesses, January means preparing the previous year's documents, invoices and receipts for tax filing. But before you meet with your accountant, it's important to understand any tax changes that may impact your business this year.
As a new administration transitions into the White House, the potential for volatility in the realm of tax policy is high. Business News Daily talked to small business tax experts to find out more about the changes, extensions, and expectations entrepreneurs should be aware of as 2017 gets underway.
Deadline changes:
First and foremost, there are some changes to filing deadlines that business owners need to be aware of. C-Corp filing dates will be pushed back, while Partnerships', LLCs' and S-Corps' filing deadlines are moving up.
"Small business owners, prepare yourselves for some due date changes this tax season," Richard Lavina, co-founder and CEO of Taxfyle, said. "The due dates for C-Corporations (Form 1120) were pushed back a month from March 15 to April 15. Likewise, the due dates for Partnerships (Form 1120) and S-Corporations (Form 1120-S) were pushed forward from April 15 to March 15."
Make sure you're aware of your filing deadlines and whether or not they've changed. Small business owners who miss their deadlines will have to request an extension from the IRS and make any estimated payments if they expect they owe money. Any money owed to the IRS is still due on tax day even if an extension is granted.
Tax break extensions
Now for some good news: there are a few tax breaks that will be extended through 2017. Here's some of the key deductions and credits that your business should look to take advantage of in the coming year. Some of these changes have been known about for some time, but it's still important to be aware of them moving forward.
Section 179
Brian Ashcraft, director at Liberty Tax Service, said the passage of the  PATH Act made a $500,000 deduction regarding equipment purchases less than $2 million permanent.
"The PATH Act made Section 179 expensing permanent and added items like off-the-shelf computer software to the list of qualifying property," Ashcraft said. "Instead of using regular deprecitation, which would allow small deductions over a period of five years, your business can take the full [cost of qualifying equipment] in the first year, as long as it is placed into serevice in the same tax year and is used more than 50 percent of the time for business."
The extension applies to both used and new equipment, he added.
Bonus depreciation
Bonus depreciation, a tax break that allows businesses to deduct 50 percent of the costs for new capital equipment when its purchased, will surive through 2019. However, the percentage that can be deducted will decrease each year until bonus depreciation finally sunsets under the PATH Act.
"Bonus depreciation is always a hot button item when it comes up in Congress," Lavina said. "However, this will gradually diminish each year until it expires."
The 50 percent deduction will remain in 2017, but will decrease to 40 percent in 2018. A subsequent 10 percent decrease will reduce the deduction to just 30 percent in 2019, and bonus depreciation will expire without any additional Congressional action by 2020.
Work Opportunity Tax Credit
Another important extension is the Work Opportunity Tax Credit, Thompson said, which incentivizes employers to hire certain long-term unemployed indiviudals, including military veterans. According to Thompson, the credit was extended by the PATH Act through 2019 and added a 40 percent credit up to the first $6,000 in wages for employers who hire workers that have been out of work for at least 27 weeks.
Research and Development Tax Credit
Finally, a change in the R&D Tax Credit means that businesses that make less than $50 million annually and invest heavily in research can now apply the credit to the Alternative Minimum Tax (AMT) or possibly even to offset payroll taxes, Lavina said.
Social Security taxes
The Social Security Administration announced this year that it would raise the cap on taxable income subject to the combined 7.65 percent tax rate for Social Security and Medicare from $118,500 to $127,200. For those who are self-employed, the employer match requirement means they will ultimately pay a tax of 15.3 percent on the first $127,200 of income they earn.
"The maximum amount of Social Security tax a taxpayer could pay will therefore increase from $7,347 in 2016 to $7,886.40 in 2017," Brian J. Thompson, attorney and CPA at Brian Thompson Law, said. "Note that self-employed persons pay both the taxpayer amount and an equal amount in the form of the employer match."
Possible corporate tax rate changes
Thompson also noted the likelihood that the corporate tax rate will decrease with an incoming Trump Administration and Republican controlled Congress. Currently, the federal corporate tax rate stands at 35 percent, but Thompson anticipates a decrease to a rate somewhere between 15 and 25 percent.
"It is important to note that this corporate rate only applies to C-Corporations," Thompson said. "Most small businesses will not benefit from such a change to the corporate tax rate because most small businesses are LLCs or S-Corporations, [which are] pass-through entitites and not subject to federal income tax at the entity level."
Instead, Thompson added, LLCs and S-Corps are taxed on the indvidual owners' or shareholders' personal income tax return.
"We think that C-Corporations may come back into fashion for small business if the new administration does lower tax rates," Steven J. Weil, president of RMS Accounting, said.
There are other potential income tax changes on the horizon, according to Nate Byers, CPA for JBC Wealth Advisors.
"We are expecting to go from having seven tax brackets to three tax brackets, as well as the elimination of the Alternative Minimum Tax (AMT) and the Net Investment Income Tax," Byers said. "Because of what we expect to be a lower tax environment in 2017, the default suggestion to taxpayers is to accelerate expenses into 2016. If you were going to make a large purchase in early 2017, the tax environment suggests that making that purchase in 2016 will maximize your tax savings."
Byers suggested that entrepreneurs sit and discuss strategy with their tax advisors before the end of the year. Bernie Kent, chairman of Schecter Investment Advisors, echoed that sentiment, stating that some businesses might even want to consider restructuring depending on how tax policy changes.
"Small business owners will need to revisit their structure when the new law is passed," Kent said. "S corporations and LLCs maybe better off with the corporate tax. Small corporations may want to be taxed as flow-through entities. Thus, all small businesses will need to consider which taxing regime makes the most sense under their particular circumstances."
Possible changes to the Affordable Care Act
Finally, possible changes to the Affordable Care Act (ACA), including President-elect Trump's promise to "repeal and replace" the law, could have significant tax implications for small businesses.
"First and foremost, it's expected that business regulations may change, and depending on what those regulation changes are, you may find some significant alterations," Roger Harris, president of Padgett Business Services, said. "It appears Republicans may prioritize the repeal and replacement of Obamacare."
Since it is unclear what the new administration will end up doing to the ACA, it's prudent to follow the existing regulations for this tax filing season. This includes preparing and submitting 1095-C forms for your full-time employees who need them, no later than March 2.
Arthur Tacchino, chief innovation officer at SyncStream, an ACA compliance and reporting company, noted that ACA full-time employees include anyone who works 30 or more hours per week (or 130 or more hours in a calendar month).
"Employers should have applied either the Monthly Measurement Method or the Look-Back Measurement Method to determine which employees are ACA full-time in accordance with these regulations," he said. "For employers that offer self-insured coverage, they also must provide a 1095-C Form to non-employees (COBRA beneficiaries or retirees) and part-time employees that are enrolled in the self-funded coverage. Employers will likely need the assistance of an adviser … to make these types of critical determinations [and ensure that] they are providing the correct employees and individuals with the required tax form."
Tacchino reminded employers that it is their responsibility – not the IRS's – to explain to employees why they're receiving a 1095-C form and what to do with it. More information about this form can be found on the IRS website.
Tax tips for small businesses
Just because tax law can be complicated doesn't mean you have to get overwhelmed. Here are some tips on how to manage your taxes year-round.
Think about taxes all year long. Small business owners should not treat income taxes as a once-a-year event. Rather, tax planning should be a year-round activity. Waiting until the last minute makes tax preparation more complicated, and it limits your money-saving options.
Hire a pro. A knowledgeable tax attorney or accountant is well worth the expense, experts say. Tax laws are complex, and they're difficult for many busy small business owners to weed through. A professional can identify tax breaks and deductions you might otherwise miss.
Be aware. Even with the help of a skilled professional, a small business owner must keep up with news related to laws. Read the business papers and keep up with Congress' work on tax laws.
Don't make assumptions. Tax planning, to some extent, is a gamble. Never make business decisions assuming that particular tax breaks will pass, or that certain policies will be enacted.
"The best course of action [is to] go about your business as normal," Harris said. "Plan for today's tax law and don't get hung up on something that isn't here yet. We'll have plenty of time to figure the changes out when and if they come next year."
Have a question? Want to schedule your Free 1 hour consultation to learn how our tax preparation services can help your business? Call us at 804-204-1040 or email us.

---
Better Business Bureau warns of QuickBooks phishing scam
Cohn, Michael. "Better Business Bureau warns of QuickBooks phishing scam." Accounting Today. Source Media. 25 January 2017. <http://www.accountingtoday.com/news/better-business-bureau-warns-of-quickbooks-phishing-scam>
The Better Business Bureau Northwest is sounding the alarm about a new email phishing scam targeting users of Intuit's QuickBooks accounting software.
Victims receive an email in their inbox with the subject line, "QuickBooks Support: Change Request." The email claims to be a confirmation from Intuit that a business has changed its name and contains a hyperlink that the recipient can click on to cancel the request. However, if email recipients click on the link, it directs them to a site that downloads malware to their device, according to a statement from the Better Business Bureau Northwest warning about the scheme. The malware allows criminals to capture passwords and other personal information from a device.
The BBB Northwest is advising businesses not to click on such links. They should check the reply email address in such messages and "hover" their cursor over a suspicious-looking link to see where it leads before clicking to make sure it's going to the correct Web domain instead of one with a similar-sounding name. They should also consider how a company normally contacts them and whether this is an unusual request.
"Unfortunately, phishing scams are commonplace today and not unique to Intuit," a spokesperson for the software vendor said. "While we have not received any complaints from customers about this scam, we encourage customers to visit our Web site, https://security.intuit.com, to learn how to protect themselves against scams." The company urged users to report suspicious-looking e-mails to spoof@intuit.com.
Phishing emails can be skilfully constructed to impersonate a company, including using the actual corporate logo. Businesses should have processes in place to make sure employees don't click on links in unexpected emails and know who to ask about what to do before they click.
Tax practitioners have also fallen victims to phishing schemes, and the Internal Revenue Service has periodically sent out warnings about the latest variations on the scams. Fraudsters sometimes purport to be emailing from the IRS or tax software companies to lure victims into divulging passwords or sensitive financial information.
Have a question? Want to schedule your Free 1 hour consultation to learn how our tax preparation services can help your business? Call us at 804-204-1040 or email us.

---
IRS, States and Tax Industry Renew Alert about Form W-2 Scam Targeting Payroll, Human Resource Departments
IR-2017-10, Jan. 25, 2017
WASHINGTON – The Internal Revenue Service, state tax agencies and the tax industry today renewed their warning about an email scam that uses a corporate officer's name to request employee Forms W-2 from company payroll or human resources departments.
This week, the IRS already has received new notifications that the email scam is making its way across the nation for a second time. The IRS urges company payroll officials to double check any executive-level or unusual requests for lists of Forms W-2 or Social Security number.
The W-2 scam first appeared last year. Cybercriminals tricked payroll and human resource officials into disclosing employee names, SSNs and income information. The thieves then attempted to file fraudulent tax returns for tax refunds.
This phishing variation is known as a "spoofing" e-mail. It will contain, for example, the actual name of the company chief executive officer. In this variation, the "CEO" sends an email to a company payroll office or human resource employee and requests a list of employees and information including SSNs.
The following are some of the details that may be contained in the emails:
Kindly send me the individual 2016 W-2 (PDF) and earnings summary of all W-2 of our company staff for a quick review.
Can you send me the updated list of employees with full details (Name, Social Security Number, Date of Birth, Home Address, Salary).
I want you to send me the list of W-2 copy of employees wage and tax statement for 2016, I need them in PDF file type, you can send it as an attachment. Kindly prepare the lists and email them to me asap.
Working together in the Security Summit, the IRS, states and tax industry have made progress in their fight against tax-related identity theft, cybercriminals are using more sophisticated tactics to try to steal even more data that will allow them to impersonate taxpayers.
The Security Summit supports a national taxpayer awareness campaign called "Taxes. Security. Together." and a national tax professional awareness effort called "Protect Your Clients; Protect Yourself." These campaigns offer simple tips that can help make data more secure.
Have a question? Want to schedule your Free 1 hour consultation to learn how our tax preparation services can help your business? Call us at 804-204-1040 or email us.